I'm sitting here at my favorite coffee place, and not ten feet from me sits a guy whose name I don't know, but whose face I recognize.
Our paths crossed about a year ago when we were hanging out around a group of mutual friends.   I remember everyone giving him a wide berth because he seemed really edgy (not good edgy) and snapped at a few people.  We were trying to help him, but he bristled at the thought that he needed anyone's help.  I remember thinking he had great hair, and how could anyone with such great hair be angry about anything.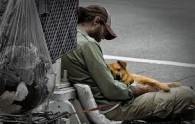 I then saw him about six months ago begging for change outside of a Best Buy.   I think he recognized me and we both avoided eye contact.    He looked pretty much the same, but a little more tired.
Right now, he has a scab on his forehead, he no longer looks handsome.   His tan is getting too "homelessy" and he looks like he hasn't showered in days.   He is talking to himself.   And the saddest part is he is wearing coffee-stained pants.  Not lightly stained.  Stained like a big mug of coffee was murdered.

I don't think there is anything I can do for this guy, and to be honest I don't want to approach him.  He scares me.   When I tried to approach him last year, he snapped at me.  I think he's probably on a multiple day bender on meth.
I think this is the first time I've seen the arc of someone sliding into homelessness and insanity.  It's really sad, but also fascinating, in a selfish way.   He has a bundled up journal that he's clutching as if it's his whole life – his remaining link to the civilized world.  It's covered in dirt. He's about 30 years old.
Part of me feels sorry for him, and part of me doesn't.   I've seen so many people slide into homelessness, addiction and insanity because they wanted to try to get out of their situation without help; you can't tell them otherwise until they have tried every shitty plan in their crazy heads and had a front-row seat for its Hindenburging.    I'm tempted to give him a sarcastic thumbs up and a wink.  And I know that's wrong, but I just get so ANGRY at people that won't get help.   He's like the drunk asshole that thinks he can take on a car full of cops.  I have trouble sometimes feeling for the sick when they are arrogant.
Maybe the saddest part about him are the coffee-stained pants he is wearing – they're white.
The white just makes it extra pathetic.  It's like the universe is shining a light on him for everyone to see, saying, "Here's what happens when we refuse to acknowledge we need help, when our instincts start to work against us."
He reminds me of a stray dog running around near traffic.  No matter how hard you try to get it to come to you, it's convinced that safety is danger and danger is safety.  And my fear of seeing the accident turns into anger.
I can become that guy if I believe my instincts are always right – if I minimize my depression and addiction – if I try to isolate.  My instincts are distorted and to some degree always will be.   I know I have to connect to other people and run stuff by them; my wife, friends, therapists, other addicts & alcoholics.  Sometimes its inconvenient and often I don't want to.   But if I stop reaching out, I'll eventually wind up like him.
It's humbling accepting the idea that I need other people.   But what's ultimately more humbling is being in his situation and trying to act as if everything is okay.